A couple people told me that I hadn't updated my blog lately. I promise I have been sewing my little fingers off working as a pattern tester. You know its bad when late the other night, I kept tapping the end of my chair with my foot and wondering why that dang needle wasn't moving!
So my January finishes were a big zero as in nada, nix, none. But I do have a few projects that I am hoping to get done while I am waiting for the backing fabric to arrive.

2.
Le Challenge.
These monthly challenges have been.......well....challenging!
This month's theme is "the rising sun" and the linkup party is the 15th. I haven't missed a party yet, so I need to get moving. Not sure just yet what I am going to do, but I did find a sample of some orange ombre fabric in the Quiltcon goodie bag that I may work with.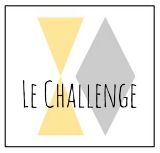 3.
Pantone Color Challenge - Radiant Orchid.
This purple/pink color is something that I do not have much of in my stash, but I really want to participate in this year's challenge. I remember all of the great emerald entries from last year that looked really fun.
Linking up today to WIP Wednesday at
Freshly Pieced
.